DVLA Rules
NO MORE "PAPER-BIT"
As of 8th June 2015 the paper counterpart to UK photocard driving licences issued in Great Britain is no longer valid.
We now need to check your Driving Licence Details ONLINE prior to hiring out a vehicle to you.
What You Need To Do
In order for us (Number One Car and Van Hire) to verify your driving licence information, you will need to provide us with either a copy of your Licence Summary, or a unique"licence check code" enabling us to view your licence details online.
This is required for both photocard driving licences as well as paper driving licences issued before 1998.
You can download your Licence Summary or obtain your unique check code by visiting the following website:
www.viewdrivingrecord.service.gov.uk/driving-record/licence-number
To log-in to the site you will need: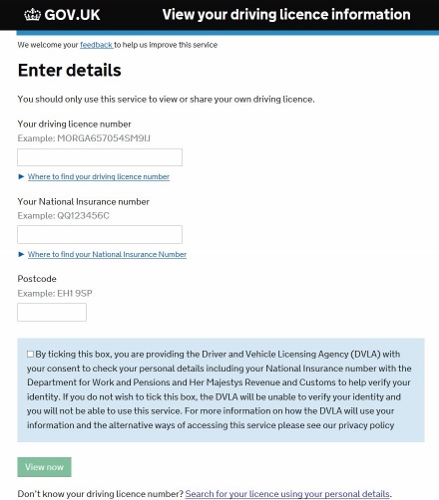 Your 16-digit Driving Licence number
Your National Insurance Number
Your Postcode (as it appears on your driving licence card)
You should then select the option to SHARE your licence information, which will generate your "licence check code" for you.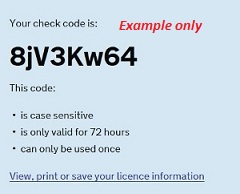 You will be given the option to:
View, print or save your licence information.
If you cannot print - no problem - but please make sure you make a note of the "check code" (which is case sensitive) and bring it to the rental office along with your licence and ID when collecting your vehicle.
This code is only valid for 21 days, so please bear in mind your chosen pick-up time when logging in to get your code.
If you choose to print out your Licence Summary information (see example below), we will accept this up to 30 days from the date generated (as shown on the summary).
ALL DRIVERS (including additional drivers) MUST DO THIS.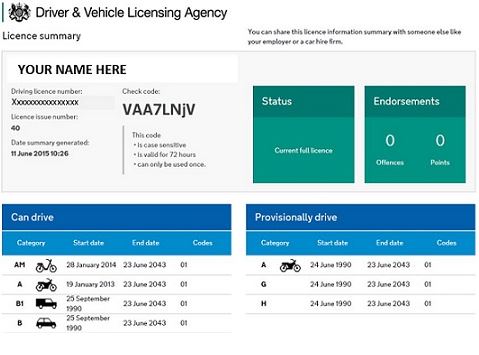 What We Will Do
We will go to: www.gov.uk/check-driving-information
We will enter the check code that you the driver(s) have been given.
We can then print (on one page) all of your driver information.
We will then keep this information for the duration of your hire period, for insurance purposes.
This process may add a few minutes to our normal procedure so please allow time for this to be done. It is a requirement for us to complete this process in order to comply with our insurance companies rules.
More Information
For further details on the new DVLA process, click here.
There is an alternative option for UK customers who have difficulty checking their own license online or who do not know their National Insurance number.
If you are a UK license holder and cannot generate a code online, then you may call 0300 083 0013 (national rate from a land line) and DVLA will provide you with a license check code.
Alternatively, you can call DVLA on 0300 790 6801 (national rate from a land line) and leave permission for your driving record to be checked verbally by Number One Car and Van Hire.
You have to go through 3 levels of options which are 1 - 4 - 2. This permission is then valid for 7 days.
We can then call DVLA, state who we are and that there is a verbal message allowing us the information. DVLA will then give us the details we need (entitlements and endorsements).
These numbers are available: Monday to Friday 8.00am to 7pm, Saturday 8.00am to 2pm.
Your National Insurance number is NOT needed to use these services.